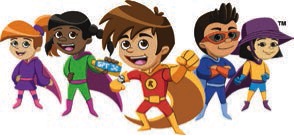 Join Be Active Kids and our friends from the CATCH Global Foundation to learn more about Ray and the Sunbeatables™ a PreK and K-1 sun safety curriculum through a webinar.

The University of Texas MD Anderson Cancer Center has developed the Ray and the Sunbeatables™: A Sun Safety Program for Preschoolers, Kindergartners and 1st Graders to educate teachers, parents, and children about sun protection and promote sun safety behaviors in an effort to reduce children's lifetime risk of developing skin cancer. The entire evidence-based Sunbeatables program is now available for free at sunbeatables.org.
Be Active Kids is committed to sun safety as a part of health and safety education in childcare centers and schools in North Carolina. Please register for this informative webinar in order to learn more about skin cancer prevention and sun safety promotion including the Sunbeatables Program.
Click link above to view the presentation slides for the "Ray and the Sunbeatables: A Sun Safety Curriculum" webinar