Blue's Blog July 2020
#bluesblog
July 1, 2020 - pdf version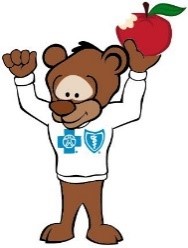 Hey Friends!

We are in the "dog days of summer"; and some my friends hate this time of year, while others like Swing, love it! Whatever side of the fence you fall on,
know there are actives and fun things to do when the heat is on! If you are one of the fortunate ones who has access to a pool, lucky you, but for the many of
us who don't, here are some ideas and tips to keep you, your family active and your friends safe in the summer sun!
Plan activities early in the day or later in the evening when the sun is less intense
Enjoy water play
Avoid drinking sugary or caffeinated drinks; opt instead for water.
Visit places that are shaded like a forest, your yard, if it's shaded, or put up a tent when playing at the beach.
Listen to your body, if you are feeling sick or lightheaded, take a break and go to a cooler place.
Choose indoor physical activities at home such having a dance party, watching an exercise video, making forts or creating an obstacle course.
Watch for signs of heat-induced illnesses; profuse sweating, headaches, dizziness, or nausea.
Also, my friends and I can't stress it enough, be sun safe this summer:
Apply sunscreen with an SPF of 30, at least 30 minutes before going out in the sun.
Remember to apply sunscreen every one to two hours or even more often if sweating or if you're involved in water activities.
Wear sun safe gear such as sun glasses, wide brimmed hats, and tightly woven clothing.
- Blue the Caring Cub